October is here and there's a gloomy chill in the air. The darkness descends upon us and with it a heightened awareness of things that go bump in the night.
You've begun to question whether that rat-tat-tat at the window of your new Manchester apartment in the middle of the night was just a branch moved by the wind…or the scraping fingers of one of the ghostly ghouls that emerge around Halloween, back to roam the earth once again.
If you love Halloween, then read on to find out about some of the best Halloween events in Manchester in 2022. Miss out at your peril…
Coronation Street takes on a more sinister aspect this Halloween with the Horror-Nation Street guided tour.
New for 2022 and set to be one of the best Halloween events in Manchester, this tour revisits the ghosts of storylines past, reliving over 60 years of villains, death and destruction on the cobbles.
So take your trick or treating to Manchester's most famous street, and have a scream!
Buckle up for this hair-raising immersive cinema experience.
You'll be screaming in the aisles as live actors take on the personalities of your favourite iconic horror icons to perform terrifying horror scenes before screenings of some of the greatest horror films.
Hurry to get a place – tickets are selling fast!
Alternatively, check out the  Scare City Drive Thru at the PowerLeague Soccer Dome in Trafford. Here you'll enter the Scare Tunnel which is infested with petrifying live actors. 
Classic horror movies are screened here – take your pick from chillers such as The Ring, The Exorcist, Insidious and Get Out. 
Here you won't find witches and vampires but you'll find something even more blood-curdling – the death stares of the Alcotraz prison wardens!
In order to survive in this brutal prison,  you'll need a dash of Dutch courage – and here that comes in the form of a cocktail. The problem is that alcohol is prohibited.
Only one thing for it – don your orange prisoners' jumpsuit and find a way to smuggle in some liquor to enjoy with your fellow inmates, who just happen to be cocktail experts! Just don't let the guards catch you or you're done for!
Can you keep your head and rise to the challenge?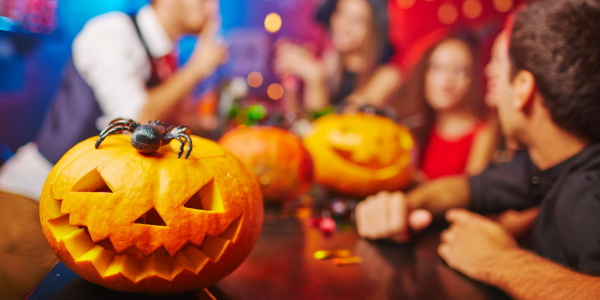 Do you have the guts to enter the Festival of the Dead?
This eerie get-together on 6th November combines circus and carnival vibes to celebrate all things macabre in this, one of the most spooktacular Halloween events in Manchester.
Prepare yourself for fire shows that will set your pulse racing, deadly acrobatics and speaker-shaking guitar solos alongside devilish puppets roaming the stage.
Disguise yourself in fancy dress to blend into the dancefloor and slip away from the grip of malign spirits at this bone-chilling event.
This is one of the more civilised staple Halloween events in Manchester and this year it returns to the Pen and Pencil once again on the 27th of October.
So grab a Kraken Rum cocktail and get your creative juices flowing with your pumpkin carving and you'll be in with a chance to win one of the prizes up for grabs.
Who doesn't want a spooky decorative Halloween pumpkin at home?!
On 30th October get yourself down to Bab to enjoy some of the most fun and lighthearted Halloween events in Manchester.
Enjoy the glamorous kitsch thrill of a drag bingo session and get your hands slimy in a pumpkin carving session, while supping the latest cocktail concoctions brewed up by the waiting staff.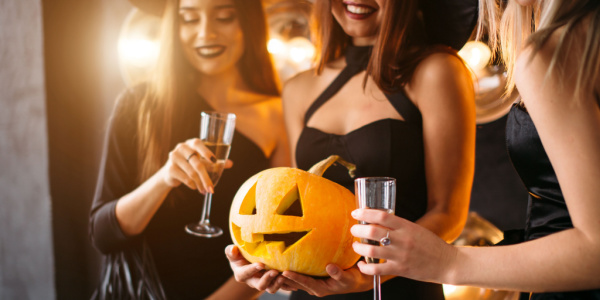 The name of this venue alone tells you all you need to know about the dastardly nature of the night you'll have here.
Get dressed up in your creepiest fancy dress to enjoy one of Diablo's famed club nights, the final weekend of October is sure to be the most chilling of all.
One of the most spine-tingling Halloween events in Manchester comes in the form of a ghost hunt at this legendary Manchester building.
The Antwerp Mansion, an early gothic structure, formed part of the 19th-century Victoria Park Estate, where wealthy industrialists lived. It was then converted into a private club 100 years ago, before being used as a nightclub and eventually falling into disuse and dereliction.
Over the years there have been many reports of sightings and ghostly goings-on at the Mansion.
Take matters into your own hands at this ghost hunt to find out what eerie activity takes place here. At the hunt you'll be provided with all the latest ghost-finding equipment and will be let loose in the Mansion.
You'll also hold a vigil to contact the dead with human pendulums, Ouija boards, dowsing rods, and table tipping, before camping overnight in the Mansion with listening devices, cameras, and voice recorders to see what can be captured.
All refreshments are provided to offer some morsel of comfort in this most terrorific of nights. 
Have you got what it takes to spend the night at Antwerp Mansion?
Do the Time Warp again and get into the debauched Halloween spirit with this eccentric, fun Halloween event.
Hosted by live drag queens, with a Rocky Horror theme, you can be a glutton and indulge in two hours of bottomless drinks and gorge yourself on the sinfully delicious brunch menu.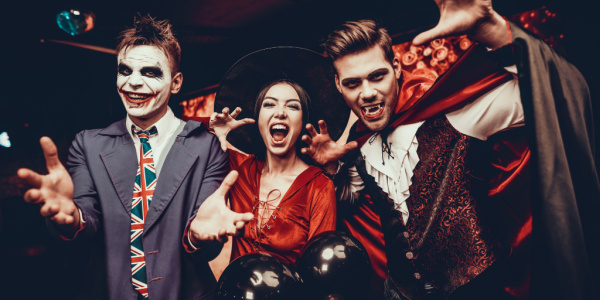 Our final choice for Halloween events in Manchester is this innovative, interactive approach to Halloween.
This tour consists of a game which you can start at any time on your smartphone. It takes you through some iconic landmarks in Manchester and retells some of the gruesome stories lurking in the history of those places.
You have to solve clues to reach such standout locations as the Albert Hall, Rochdale Canal, Chetham's Library and the Royal Exchange Theatre. 
You'll never see Manchester in the same light again…
We hope you enjoy these Halloween events in Manchester, and that you make it back to the sanctuary of your Victoria Riverside home in one piece. Good luck…
Get in Touch
Interested in buying a new home at Victoria Riverside, get in touch today.
Call us
+44 (0) 161 509 7840
Call us anytime 9am - 5pm or click below to request a callback
Call Now
Or simply send
us a message
Have a question or interested in a property? Send us a message and we will see how we can help.
Contact Us
Register your
interest
Complete our simple form and we'll get one of our team to contact you.
Register Now