Christmas is upon us, and that can only mean one thing – cosy apartment Christmas decor.
Now that you're settled into your new Victoria Riverside apartment, it's time to get into the festive mood, get those creative juices flowing and think about how to decorate your home this festive season.
Here are 12 of our top Christmas apartment decorating ideas to get you in the spirit of things.
1. Keep your walls mark-free
If you want to hang up lots of decorations but don't want to hammer holes into the walls, then using tape can be a great solution. They do the same job, but don't leave any marks.
Artist's tape is particularly good, as it doesn't rip wallpaper. 
You could even make some decorative snowflakes with white tape or green tape trees and stick them on the walls. Or add a dash of colour to tables and surfaces by adding some red or green tape.
2. Go back in time with tinsel
Remember when Christmas meant hordes of tinsel sparkling away in your parent's house? Well, believe it or not, tinsel is back in again!
When it comes to small apartment Christmas decor, nothing is quite as simple and effective as a dash of tinsel here and there.
Tinsel can glam up lamps, TVs, spare surfaces, and even table place settings. Go on, you know you want to.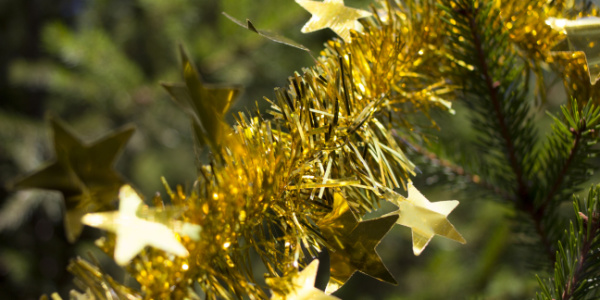 3. Get creative with hanging decorations 
We all know that at Christmas we're supposed to hang stockings on the fireplace, or on the bedposts. But what if you don't have a fireplace or bedposts?
Time to think outside the box again.
Your Christmas apartment decorations can be hung up wherever you have free vertical space. That might be a radiator, a bookcase, or a doorframe. With a bit of improvisation, you can hang up your stockings, Christmas cards, or something more extravagant like a beautiful festive garland to add a bit of extra Christmas cheer.
If you have children, then floating shelves are also great for elf-on-the-shelf positioning!
4. Use gilding paint
One of the easiest and most fun ways to add a festive spin to everyday items like pine cones, is to spray gold paint on them.
If you gather a few painted objects together and put them in a bowl, they can add a simple yet glittering touch to your Christmas apartment decorations.
It's the small touches…
5. Oh Christmas tree, Oh Christmas tree 
It wouldn't be a Christmas apartment decorating tips list without mentioning the heart of any festive home: the Christmas tree.
It's the first thing that comes to mind as you decorate for Christmas. You can opt for a real tree or a faux one, but one thing's true – size doesn't matter.
When it comes to small apartment Christmas decor, there are lots of alternatives to a huge 6 or 7 foot tree. You can opt for smaller trees, even a mini tabletop tree.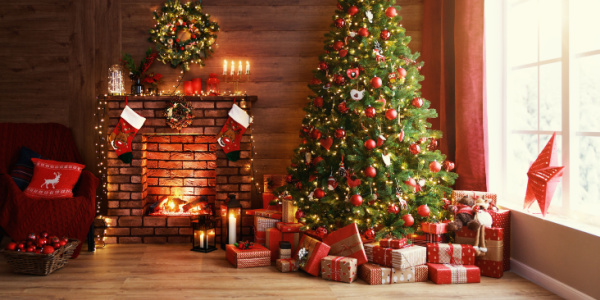 When it comes to decorating the tree, go green and recycle ornaments from last year, or better yet, make your own. If you want to get creative and try something new, why not transfer tattoo designs onto transparent glass baubles for a truly personal touch?
Maybe even set up a little crib with nativity set ornaments – this can be particularly fun to do with younger children, as it gets them involved and engaged in Christmas preparations.
6. Make the most of home accessories
Our next Christmas apartment decorating tip is not only pretty but also practical. We all have sofas and beds, so it makes sense to add a little seasonal creative flair to the accessories we use on them.
Throw pillows, cushions, blankets, sheets and duvet covers can all take on a Christmassy feel if you choose wisely.
Tartan cushion covers are always a good option to add a cosy apartment Christmas decor feel, as are bright red sheets for your bed, and faux fur throws.
7. Wreaths and mistletoe
One of the easiest and most traditional Christmas apartment decorating tips is to hang up wreaths on interior and exterior doors. Or perhaps put smaller ones on surfaces propped up against walls, or on dining tables as a centrepiece.
Mistletoe is also a typical holiday decoration which you can hang up anywhere, and the perfect excuse to pucker up with your significant other.
The entrance to your home can make a cheerful and welcoming impression through the use of wreaths or a ribbon wrapped around the door. A cute Christmas doormat can be a nice touch, too and makes the little ones feel like they've just entered Santa's workshop.
Even your windows can be used to beautify your home this Christmas. Try putting snowflake stickers up in your windows, and if you have one, you could adorn your apartment balcony with Christmas decorations like tinsel or garlands.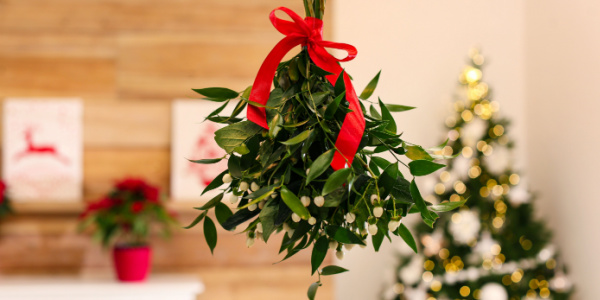 8. Go green
Speaking of mistletoe, adding some greenery into your apartment is a surefire way to add a real Christmassy atmosphere.
The smell of pine triggers festive nostalgia in most of us, although pine needles can be a little annoying and messy.
Draping a garland over mantelpieces or door frames adds an evergreen touch to your home and a real wholesome feel. Poinsettias act as a nice offset to all that greenery, and are a classic Christmas decoration.
9. Holiday candles
We mentioned the smell of pine in point number eight, and there really is a no more powerful way to transport you back to Christmas of days gone by, than with a festive scent.
If you want to avoid cleaning up pine needles, you can simply invest in a pine-scented Christmas candle. There are lots of other scents to choose from, and candles add a lovely cosy ambience to your home.
10. Twinkly lights
We couldn't list Christmas apartment decorating tips without mentioning twinkly lights.
An essential part of Christmas is lighting up your home during the darkest months, and it's surprisingly easy to transform your apartment into a delightful, twinkly grotto.
Something as simple as stringing some twinkle lights around mirrors or doorways, cabinets, the TV, the balcony, handrails, around kitchen countertops or on the bedhead, can have a lovely effect.
These are just a few Christmas apartment decorating tips, and we're sure you'll come up with some of your own ideas. Hopefully, they've inspired you to beautifully decorate your Victoria Riverside apartment this festive season. Have a wonderful Christmas and a Happy New Year!
Get in Touch
Interested in buying a new home at Victoria Riverside, get in touch today.
Call us
+44 (0) 161 509 7840
Call us anytime 9am - 5pm or click below to request a callback
Call Now
Or simply send
us a message
Have a question or interested in a property? Send us a message and we will see how we can help.
Contact Us
Register your
interest
Complete our simple form and we'll get one of our team to contact you.
Register Now