Never before have our homes needed to be more camera-ready. As people spend more time at home working in their dining rooms, the line between comfort and personal aesthetic chic has become blurred and given rise to trends that incorporate functionality and design appeal. 
From textured natural materials that add a bit of movement to your day, bold colours that inspire concentration and tranquillity, and multi-purpose furniture that inspires clutter-free living. In this article we explore the top 10 interior design trends for 2023 you should consider to ensure that your space is the perfect mix of function and form.
1. Experimentation with new materials
While the focus has shifted from picking either natural or artificial materials, one of the biggest design trends in 2023 is the use of experimentation with both. Rich brown vegan leathers can be combined with red and pink marbles and natural wood. Luckily for those who work and play in the same space, performance fabrics are becoming more luxurious, meaning they look good while taking the strain, but won't stain. 
Be brave and combine unexpected materials to create layering in areas of your apartment that you wouldn't normally be bold in. Think natural wood coffee tables adorned with paper-based decorative elements and entry hall walls adorned with textured tiles. 
2. Saturated Earth Tones
Paint colours are all about saturation – the trendiest colours should look just as good on your ceilings and floors as they do on the walls. Earth tones have seen a comeback,  with warmer creams and mauve being the most popular paint swatches on everyone's visit to their local B&Q.
Layering of natural earthy tones is key. Don't be afraid of mixing unexpected tones, but be careful of layering too much in rooms that are paint-saturated. Although more neutral, these colours can be used in unexpected and surprising ways, such as coral-saturated bathrooms or a living room that is just peachy!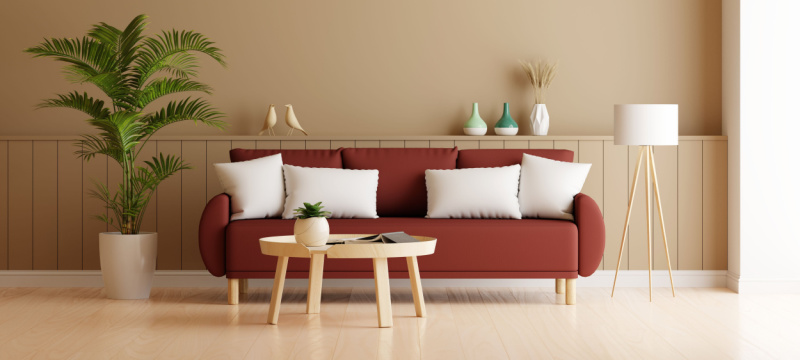 3. Rounded and Curved silhouettes
Modern clean lines are the look of the season. However in contrast the key trend for upholstery and other pieces of furniture is rounded silhouettes. Think bouche pumpkin armchairs and curved bean-shaped velvet sofas. More traditional items such as sideboards are also seeing renewed interest and have received a facelift –  designed with curved and rounded edges in natural wooden tones. 
The best part about this trend? Mixing it with stronger lines is easy and doing so will create dimension and movement.
4. Statement Lighting
Bold lighting that creates a focal point is a must-have. This is especially true for statement lamps that create ambient lighting. 
Add height to your rooms by hanging oversized lights. Gone are the days of a beautiful bouquet on the dining room table or kitchen island – look up and you're sure to find a statement multi-pendant light, or even two.
5. Nostalgic Sustainability
This trend gives a very warm nod to past design styles – such as mid-century. Mid-century never really went out of style and adding a piece from this genre makes even the most amateur of interior designers look like seasoned collectors. Not only is it sustainable but it combines natural materials with incredibly refined craftsmanship. Not to mention those well-loved curved corners. 
The best part about mid-century furniture and design is that it can be combined so easily with any look, bringing it into the modern century while making your home look tastefully nostalgic. Refined furniture can be pricier than other items, so ensure that it will fit your space before you buy it. 
6. So long, clutter
Less accessories are more. 
Clean spaces and minimalism are fast becoming a necessity more than a trend across apartments in the UK. With us spending more time at home, decluttering rooms is an easy way to keep our work and home lives separate, within one space. Think of a shelf featuring a single piece of artwork, rather than a cluttered collection. This can easily be the focal point in any room (and it's a more affordable way to decorate). Equally, chic sliding wardrobes are a perfect way to hide that unavoidable clutter.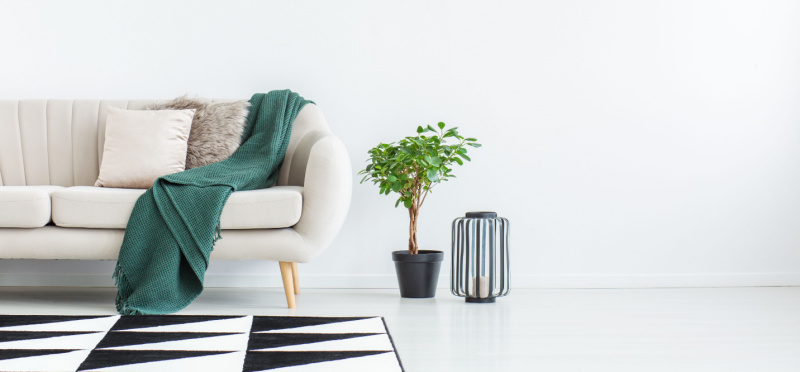 7. Kitchen shelving
Less wall cabinetry is replaced with natural wooden shelves, exposing neatly stacked earth-toned crockery. 
Kitchen shelves are also a simple and cost-effective way to create more space in smaller kitchens and declutter those kitchen counters. If placed correctly, shelves can also help create the illusion of height.
While floating shelves will always have a place in the design trend books, shelves that use gold brackets or modern black ones add a little something extra and help to make larger open kitchens feel more enclosed and cosy.
8. Black Accents
Looking for a way to add black accents to your room to create a bit of drama? A bold black frame around a mirror, or even a black painted door will leave an impact on anyone who enters the room. 
The preference is on matte black rather than gaudy gloss, as this adds a sense of refinement to the colour and adds an element of timelessness to the trend. 
Matte black hardware hasn't lost its popularity, especially in kitchens and bathrooms and on cabinets in living rooms. It's an easy and affordable way to add a touch of bold black to even the drabbest of spaces. 
9. Statement rugs
Rugs have always been the must-have solution to add a bit of warmth to rooms in the colder weather. But gone are the days of dreary and drab and using a bolder, more eye-catching design is easier than ever. The best part about rugs is that they aren't as permanent as wall colour and can just be returned if they don't fit the style of your apartment. 
Unexpected shapes are very popular at the moment, giving rugs renewed interest as people push the boundaries and go for colours and shapes they would never have imagined before.
Natural woven textures are very popular in 2023, with oversized rugs being the choice for bedrooms and living rooms. And with the introduction of washable rugs, it's never been easier to find the perfect statement rug for your home/working space.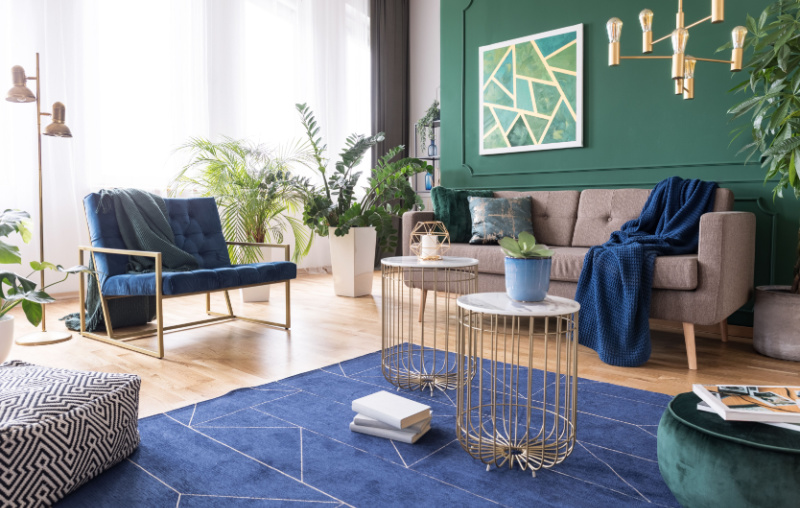 10. Personal Style
Experts are promoting the idea of adding personal touches and style to a space, especially as we spend more time in our apartments and they truly become multi-functional spaces. 
No matter whether your style is kitsch and cool or refined and elegant, adding parts of your personality to your space will truly make your apartment unique. The world has changed since we were all stuck inside for weeks on end, and "anything goes" is the new normal. Embrace this change and let your style fill your space.
Exploration is key and with a DIY solution available for most interior design trends for 2023, all you need is a bit of imagination…and a measuring tape.
Get in Touch
Interested in buying a new home at Victoria Riverside, get in touch today.
Call us
+44 (0) 161 509 7840
Call us anytime 9am - 5pm or click below to request a callback
Call Now
Or simply send
us a message
Have a question or interested in a property? Send us a message and we will see how we can help.
Contact Us
Register your
interest
Complete our simple form and we'll get one of our team to contact you.
Register Now